Liquorice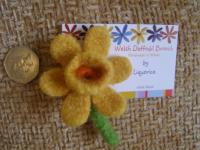 Knitted felted handbags, SpecSnuggles, Ipad Cases. Funky Welsh Daffodils. Felted Soap, woolly hair accessories. Celebration of Welshness Coasters.
Visit Website
I started trading as Liquorice 3 years ago - the best job I have ever had, although its fair to say the hardest. I am equally obsessed with knitting, wool and all things bright and colourful. All of my work is handmade by myself apart from my range of coasters - I designed these approximately 12months ago and began by handwriting all phrases onto ceramic tiles - I couldnt keep up and so resorted to having laminated coasters supplied to me in 8 designs. 
Some of  my more popular items are my felted soaps, knitted felted daffodil brooches, coasters and Welsh tapestry Poochpouches. I hope to launch my version of Squishy Welsh Baby dolls in the next few months - still working on these!