Dylanathon Photographic Competition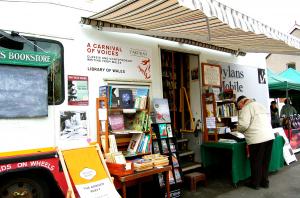 This weekend there is a Dylanathon Photomarathon based at Dylan Thomas' Birthplace with participants free to go anywhere to get photos to illustrate ten Dylan related themes.

One of the checkpoints where you canl pick up themes is the Dylan Thomas Book Bus (at Uplands Market!). The Dylanathon is a photographic competition with a twist. It's not just for the professional but anyone with a digital camera, smartphone or tablet looking for a fun and challenging day out.
The competition runs for 8 hours on Saturday 28th June 2014 and will celebrate the wonderful and magical words of Dylan Thomas in his Centenary year.
The competition is hosted by:
Dylan Thomas Birthplace, 5 Cwmdonkin Drive.
Dylan's home of 23 years and creative base for two thirds of his published work.
See www.dylanathon.com for more information