Glam Lamb celebrates 'Great Taste Award 2014' Stars!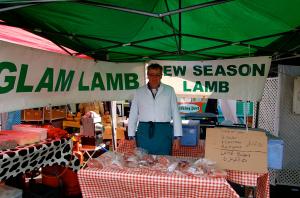 Uplands Market regulars John and Fiona Davies, sheep farmers from Wern Fawr Farm in Ystradowen, Cowbridge are thrilled to announce Glam Lamb has been awarded two 'Great Taste Awards 2014' from the Guild of Fine Food. They have won a '2 Star Great Taste Award' for Glam Lamb Loin Chops and a '1 Star Great Taste Award' for Glam Lamb Whole Shoulder of Lamb. These awards follow a '2 Star Great Taste Award' in 2010 for their Glam Lamb Leg of Lamb.
All Glam Lamb is born and bred at Wern Fawr Farm, reared with love and selected with care. John and Fiona do all their own butchery providing customers with a personal and unique service with full traceability of the produce.
'Great Taste Awards' is simply about taste – not clever packaging or smart branding. Judges are presented with the product with no wrappings, jars or marks – and they taste, confer and re-taste before making the decision on whether a product should be awarded 'Great Taste Stars'. When a product wears a 'Great Taste' label it carries a badge of honour but more importantly, the 'Great Taste' logo is a signpost to a wonderful tasting product.
Glam Lamb is available online with a nationwide delivery service www.glamlamb.co.uk
It is also available at Uplands Market.
You can contact John or Fiona at Glam Lamb via info@glamlamb.co.uk