Gorgeous recipe from Taste of Persia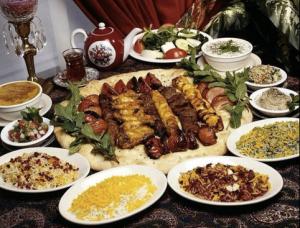 Our first recipe comes from Taste of Persia. Producer of Persian ready-made meals, falafel, Persian sweets including gorgeous baklava & pastries.
You can follow Kamran and his delicious food at Twitter @TasteOf_Persia
Pomegranate Chicken
Fesen – Joon
Ingredients:
Chicken 500g, Onions 220g. Turmeric 1g, Salt 5g, Pepper 1.5g, Cinnamon 2g, Sugar 20g, Pomegranate Puree 105ml, Water 200ml, Walnuts 70g
Direction:
1-Chop onion as finely as possible (use a processor if possible)
2-Fry onion until slightly golden
3-Add turmeric, salt, pepper, cinnamon and stir well
4-Add Pomegranate Puree, sugar and water, simmer for 5 minutes (add more water to your taste if you wish to make it thinner). Your sauce is now ready to be added to the chicken
5-Place chicken in a roasting dish (you could seal the chicken until golden colour before putting in oven) and add 4 tbls of sauce, (Making sure chicken is well coated)
6-Place in a pre-heated oven at 200 Degree C for 20 minutes, (use temperature probe in the thickest part of chicken to achieve 70 degree 'C')
7-Now add crushed walnut to the sauce and simmer for 10 minutes
8-When chicken is cooked, turn the oven off, add rest of the sauce with walnut to the chicken and leave in the warm oven for 10 minutes
Your dish is now ready to serve.
Option 1:
Serve with Saffron rice as a main course.
Option 2:
Serve on a bed of green salad as starter.
Good Cooking
Kamran