March market - bigger & better!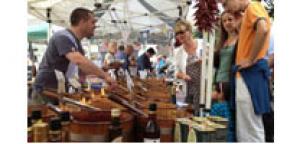 Invitations have gone out to traders for the next market on 29th March.

Traders should check, emails (and your junk box please). If you don't have an email then we haven't been able to accommodate you, sorry.

That's despite the fact that we are expanding! Maybe an extra half dozen pitches. We've got even more goodies for you - Gower Coffee is back, there's a new sourdough breadmaker, lots of that lovely veggie and vegan stuff that more of you like than know about! And that is just the tip of the lovely nosh and fresh foodstuffs available.

More crafts, jewellery, artwork - you know, lots of lovelies.

It's Mother's Day on Sunday 30th (the day after the market) - we will have a wide array of gorgeous handcrafted gifts and delicious produce.