Mavis' Spicy Vegetarian Curry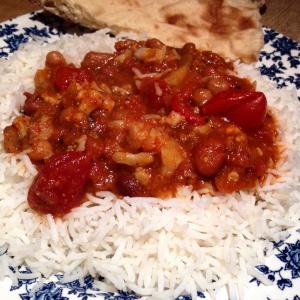 Spicy vegetarian recipe from Estelle's Gower Goodies
Estelle's wonderful sauces including Mavis Revenge and Gower Reaper can be bought at Uplands and Marina Markets.
Recipe
½ tsp green cardamom powder
1 tsp nigella seeds
2 tbsps coconut oil
1 tsp masala powder
2 tsps curry powder
½ red onion quartered
¼ block coconut milk
200ml coconut milk
6 tbsps "Mavis Revenge Sauce"
½ tsp fresh diced ginger
1 can plum tomatoes
10 whole cherry tomatoes
1 ½ whole roasted pepper
290g approx. tin of hot and spicy mixed beans
50g jaggery
½ big white cauliflower (white florets only, no green leaves)
If you love hot, you can add 4 tbsps "Gower Reaper"
Salt and pepper
Method
Set oven for 160c
Steam white cauliflower florets until soft but not mushy.
In a warm pan add coconut oil, onions, spices, ginger, pepper (cut into chunks) and jaggery – fry slowly for 5-10 minutes.
This will help bring out the flavours of the spices.
Cook until onions are soft – if dry add a little water.
When all combined, add tomatoes, coconut block, coconut milk, mixed beans, cauliflower and "Mavis's Revenge"
Stir all ingredients well in a large casserole dish and cook slowly for about 45 mins – 1 hour in oven, stirring now and then.
Season with salt and pepper.
If not spicy enough add more "Mavis" or "Gower Reaper"!
Serve with brown rice.