New Uplands Market bags on sale!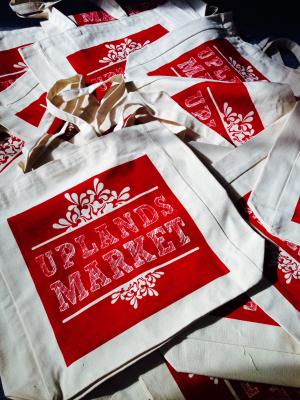 Forget designer handbags, the new Uplands Market bags are the 'must have' item at the moment. Okay, we exaggerate slightly but they are incredibly handy for putting all your market goodies in. Made of quality cotton (they are strong!), they are selling at £5.
The team has been really surprised with how popular they have been and have enjoyed spotting them out and about in Swansea. We are hoping that they start to go further afield - bonus points for the person who takes a photo of themselves sporting their bag somewhere exotic.
Bags will be onsale at the April Market (26th). Buy on the Uplands Market information stall or look out for our bag lady on the day - that'll be Lucy.