Swansea artist Simon Dark celebrates success!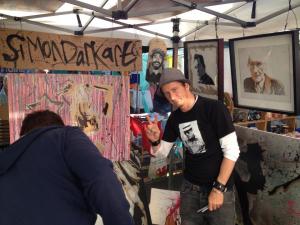 Uplands Market artist Simon Dark is currently enjoying well deserved recognition for his talents. Due to connections he has made at the market, he has had an exhibition with Jeff Towns - 'The Many Face of Dylan Thomas' at Volcano, 229 High Street Swansea, alongside work by Alan Perry, Ralph Steadman, Sir Peter Blake, John Uzzell Edwards and many more.
Simon states, "On an exposure level Uplands Market has been priceless and for any up and coming artist they should jump at the chance at requesting a stall. It has given me the confidence to push my work".
The Curator Gallery Owner of the famous Gonzo Museum in Aspen Colorado also contacted Simon and his work now hangs beside world famous artists such as Ralph Steadman, Hunter Thompson and William Burroughs.
Simon continues, "These are my favourite artists/authors so this is a weird dream come true for me and who knows what else might come off. I have met so many people thanks to the market – especially on a friendship level, not just art or work".
It doesn't stop there either, he has a very exciting joint exhibition with Sir Peter Blake at the Taliesin in September and a solo exhibition in Noah's Yard later in the year.
Simon is taking a break from the market to concentrate on creating some new work and we wish him all the success in the world. He promises to visit us and keep us posted.
http://www.taliesinartscentre.co.uk/gallery.php?id=871
https://www.facebook.com/simondarkart