The Marina Market launched amid hurricane Bertha!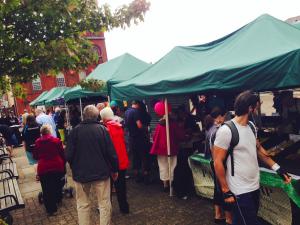 The market took place despite the weather warnings, as the community and local businesses rallied together to make it a huge success. Although many traders were not able to make it through the torrential rain, a smaller market was set up outside in Dylan Thomas Square. When Bertha made an appearance at 11am, the brave market looked like it may have to call it a day but the National Waterfront Museum stepped in and rescued the day by letting the stalls trade inside. Shoppers, museum staff and the market volunteers moved everyone under cover in a united show of solidarity.
The Marina Market is organised by the same people behind the successful Uplands Market. It aims to boost vitality and local trade in areas of Swansea and utilise urban space in new and meaningful ways.
The wide array of stalls included beautiful handcrafted soaps made with local seaweed to award winning chocolate brownies. There was farm fresh meat and vegetables, beautiful crafts and even a therapy stall offering shoppers head massages. One shopper said, "I have a bag full of fresh vegetables, spices, sausages and handmade jewellery. I chatted to every person who farmed or made them – where else does that happen?"
The day was a huge success with many traders selling out of produce. Market regular Sharon Thomas of Belisama Candles called it, "my best market trading day ever" whilst Luti John Jewellery said, "If the market is this good on a 'bad' day, then good days are going to be extraordinary fabulous!".
Lucy Beddall, one of the market coordinators said, "Many said it would be cancelled but they underestimated the unbreakable Swansea spirit – traders, shoppers worked hard together to save the day. And the National Waterfront Museum is our knight in shining armour. The Uplands and Marina Markets not only celebrate Swansea's vibrant sense of community, they also stimulate economic growth by working to boost trade. A local business has already reported a substantial increase in takings from Sunday. It has a knock on regenerative effect, as we are already beginning to see in the Uplands."
Speaking about the new Marina Market, Events Officer, Miranda Berry-Bowen said: "We were delighted to help host the new Marina Market on Sunday. It was a fantastic event to encourage more footfall to the area and a great addition to the public programme - we're all looking forward to the next one in September."
Swansea West Assembly Member Julie James opened the event and said, "It was amazing to see so many high quality local businesses contributing to a great community market yesterday, even though the weather was against us the support was fantastic"
The new Marina Market will run monthly with the next one being held on Sunday September 14th, 10am – 3pm. It is situated in Dylan Thomas Square SA1 1TT.