Uplands Market celebrates the independent spirit of Christmas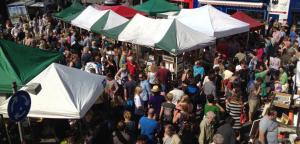 With about 70 traders at each market, there is a wealth of beautiful Christmas gifts to choose from. From mini casks of ale, candles, vintage tree decorations to organic parsnips, spicy sausages and tasty pickles, the markets caters for all tastes and interests.
Since the Uplands Market started in July 2013 it has grown rapidly in size and popularity. With the addition of the Marina Market in August 2014, each market attracts around 3,000 shoppers. It also seeks to promote start-ups by giving them a safe platform to evolve their business.
The Uplands Councillors also give their time to support the market. John Bayliss says of Uplands Market, "Uplands Market has taken the area to a whole new level as far as I'm concerned. Let's not forget this is run entirely on the hard work of local volunteers who care about the area - this is something that should be nurtured and celebrated. I know local independent trade has also benefitted tremendously from the market, as it brings shoppers into the area."
Lucy Beddall, one of the market coordinators says, "The markets are fuelled by positive energy from the volunteers, local businesses and the community. I personally am very excited about the Christmas markets – I shall be doing all my Christmas shopping there."
The markets are not just about shopping, they are also designed as social spaces where people can be entertained (by the 'Do Not Go Gentle Festival' stage, managed by Pierre Donahue) or meet friends over a take-out lunch from one of the vendors. The Uplands Market on December 6th will also feature a festive set from Fiddlesticks, a youth string orchestra.
Uplands Market is a not for profit initiative and supported by a team of local volunteers, councillors and businesses.
The 2014 dates are:
UPLANDS MARKET, 9am – 1pm, December 6th & December 20th.
MARINA MARKET, 10am – 3pm, December 14th.
Please see the website for more information www.uplandsmarket.com