Yummy falafel recipe from 'Taste of Persia'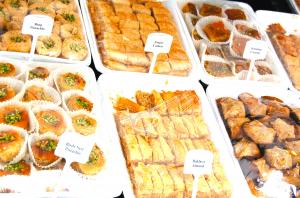 Thank you to the lovely Kamran who has let us have this recipe. He is always at Uplands Market with his business TASTE OF PERSIA. They make Persian ready made meals, falafel, Persian sweets including the popular baklava & pastries. Kamran is always happy to offer assistance with recipes and food preparation.
Falafel
1 cup dried chickpeas or 16 oz. can of chickpeas or garbanzo beans.
1 large onion, chopped
2 cloves of garlic, chopped
3 tablespoons of fresh parsley, chopped
1 teaspoon coriander
1 teaspoon cumin
2 tablespoons flour
Salt
Pepper
Oil for frying
Preparation:
Place dried chickpeas in a bowl, covering with cold water. Allow to soak overnight. Omit this step if using canned beans.

Drain chickpeas, and place in pan with fresh water, and bring to a boil.

Allow to boil for 5 minutes, then let simmer on low for about an hour.

Drain and allow to cool for 15 minutes.

Combine chickpeas, garlic, onion, coriander, cumin, salt and pepper (to taste) in medium bowl. Add flour.

Mash chickpeas, ensuring to mix ingredients together. You can also combine ingredients in a food processor. You want the result to be a thick paste.

Form the mixture into small balls, about the size of a ping pong ball. Slightly flatten.

Fry in 2 inches of oil at 350 degrees until golden brown (5-7 minutes).

Serve hot on pitta or flat bread with salad, humus, tahini sauce and chili sauce (optional)
Remember, you can have different flavors, just replace Parsley & Coriander with for example Olive, Sundried Tomato, Apple, etc.
Gluten Free Option: Just replace your basic Flour with Rice Flour
Enjoy and happy cooking.
PS; If there are any ingredients, you can not get hold of, just contact me and I will make sure, we get it for you.